5 Benefits of Using Professional Web Design Services
By Ruth Hawk, Friday, January 29, 2016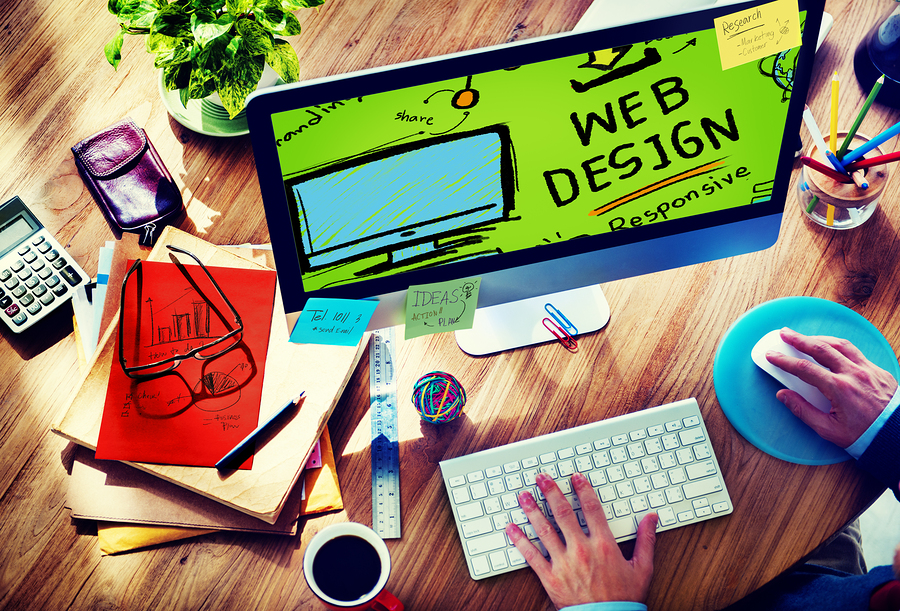 Web design is easy to overlook. Amid the pressures of running a business and working with what is always a tight budget, refreshing your web design may seem like a low priority. And, even if you do notice that your site is getting a little outdated, it may be tempting to just throw a few quick fixes at it yourself. Unfortunately, a vibrant web design requires more than a few new photos. That is why hiring professional web design services is a smart move if you want a profitable and thriving website. Following are a few of the benefits you enjoy when you use these services.
Professional web design services save you time.
As a small business, chances are both you and your staff are already overly busy. Doing your own web design means time away from other responsibilities that could be making you money. And, once you have your website redesigned, keeping that design fresh, updated, and working smoothly will require an even greater chunk of your schedule.
If you want to use your time to focus on other aspects of your business, professional web design services may be what you need. The company you hire will be dedicated to one goal: Creating and maintaining the optimal website for you. They will manage the design, implementation, and maintenance of your site so you can use your time to focus on the many other demands of your business.
Web design services create a professional look.
Visitors to your website will take only a few seconds to decide to stay (or not). And, they will usually decide on the basis of your website's appearance. Cluttered, confusing, amateur, or cookie-cutter sites are more likely to be rejected than are sites that make a positive first impression. This is why web design services may be necessary to achieve the clean, professional look that will convince your visitors to stay.
Web design services typically achieve a more professional look than self-design projects because they bring a level of experience that comes from years spent working in the web design field. The company you hire will know the industry trends and best practices and will employ designers who are both talented and knowledgeable. As a result, they can provide a more sophisticated look than is possible through cookie-cutter templates and free online tools.
Professional web design services improve accessibility.
Creating the right look for your business is only the first step in creating a useful web design for your business. The other step involves making that web design accessible to anyone who visits your site. In particular, your web design needs to work equally well across all of the browsers that people use to access your site (Chrome, Firefox, Safari, etc.). If you create a design that only works on one or two browsers, you may lose visitors (and their business) when they try to access your site through an unsupported browser.
Professional web design services can help you to achieve browser compatibility because they are familiar with the broad range of browsers available today. As a result, they have the expertise necessary to make your web design as beautiful and compelling on IE6 as on Firefox, Safari, or Chrome. Visitors will be able to enjoy your site no matter how they come to it, and your business may enjoy improved traffic flow.
Professional web design services improve search engine visibility.
Whether you realize it or not, your web design is closely related to search engine optimization. For instance, a web design that is mobile-friendly will rank better in the search results than a site that is not. A clean, uncluttered design makes it easier for search engine crawlers to find and index your content. As a result, it is important to craft a website whose design supports your SEO efforts.
Professional web design services can help to optimize your design for SEO by bringing knowledge of both web design and SEO to your site. In fact, the web design company you hire should offer a wide range of services (SEO support, web development, etc.), so as to offer you everything you need to get your website up and running. Their knowledge of how SEO and web design interact means that they will be equipped to optimize your web design for search engine visibility so you can enjoy maximum website traffic and conversions.
Professional web design services can make you money.
Saving money on the cost of web design services is one reason small businesses often rely on cookie-cutter templates and in-house talent to create their web designs. Yet, web design is one of those areas where you get what you pay for. If you opt for a DIY website, you are likely to end up with a site that looks as if it is DIY. If you invest in quality web development and web design, on the other hand, you are more likely to end up with a polished and professional look.
And, in the end, hiring professional web design services will be an investment that pays off. When you have a design that improves your performance in the search results, you get more visitors. When that same web design is skillfully designed, it will keep more visitors, meaning more conversions and more profit for your business. The upfront cost of professional web design services can actually lead to long-term profit as your web design contributes to improved business for you.
Web design services offer your business benefits that make the financial investment worth it. By saving you time, creating a more professional look, improving accessibility, improving search engine visibility, and making you money, they provide you with a web design that is functional and productive as well as beautiful and appealing. 
Comments are closed.