How Many Chickens Does it Take to Optimize a Website?
By Jacqueline Sinex, Friday, October 11, 2013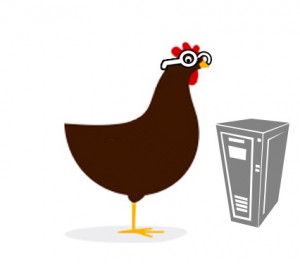 It is 2013, and more business owners are waking up to the reality that website marketing is not going out of fashion. Some professionals may have wondered if their web presence was important a few years ago, perhaps thinking that their industry or audience type was not "Internet savvy". But today, we know that websites rule the world, and search engines like Google are the royal leaders of that world.
But instead of thinking of your website as a part of a kingdom, let's think of it as a piece of farmland. I hear this kind of metaphor a lot in sales: You have to be a farmer and cultivate relationships. We do this to gain the trust and eventually the business of the customer. It makes sense to approach the Web in the same way.
Think of the Internet as a farming community where every farm has some different "crops" to offer. These crops might be products, services or educational information. When an online consumer finds your farm, you want to make sure your crops are showcased in the best possible way so more people are encouraged to buy them.
Your Chicken Coop: Understanding the Elements of Your Website
Your website may have various facets to it, such as:
• Informational content about your company
• Selling content about your products
• Information from third parties
• Call-to-action items
Even this short list of examples can lend to a great amount of work for the average small business owner. To have a strong online marketing strategy that actually works, you need a lot of "chickens" in your coop.
Marketing Message Chicken
One chicken might be the brand and face of the company; this fuels the tone of your brand message throughout your website content as well as how you are represented in other sites or directories. Online strategies often miss the mark when they are not in sync with other offline marketing methods; you may find the way your sales staff explains your company to a customer is entirely different than their perception on the website.
Research Chicken
A "research chicken" represents the extensive keyword research and competition analysis that is required to understand your target market and define your content in the appropriate way. A common mistake of website owners attempting to optimize their own websites is to arbitrarily pick keywords that are very broad or that are common industry terms, but without any supporting data to confirm they are actual targeted terms that customers are searching for. Therefore, the research aspect is highly important.
E-commerce Chicken
Another chicken defines your e-commerce features. – what shopping cart tools you will use, what you actual sell online, what the flow of the buying process is for the user, down to even what payment methods and shipping options you offer. E-commerce can cause businesses to actually separate their company into a totally separate division and can be quite a learning curve for retail / brick and mortar companies to mold into.
Content Chicken
Next, there is a content writing chicken. You previously defined your brand strategy and what consistent messages you need, but someone actually needs to write content to support that. Today, content is the major component of the world wide web. Content makes up the majority of successful online marketing for qualified SEO professionals. With Google continuously shifting it's focus on quality websites and finding websites that are truly relevant to what the searchers want, it leans more and more toward quality content that spread knowledge and is well-liked by readers. This means you need to be writing frequently about your industry, about your customer's challenges and about advice that can actually help to solve their problem. The typical business manager does not dedicate regular time to writing blogs and educational articles every week, so this may also take several chickens.
Design Chicken
Another chicken represents your web design; the aesthetics and the flow of navigation are important. The look and feel of your website plays a big part in converting visitors to potential buyers, to building trust in your company and in your product. The messaging strategy you worked out earlier must coordinate with the design elements.
Techie Chicken
There is a techie-chicken who ensures the programming of the website is optimal. Too often, websites have common coding errors that cause little red flags and can actually affect your search engine visibility. What's more, if your website is have greater technical problems with security and a hacking program is detected on the site, Google may "block" visitors from accessing it by displaying a warning message in the search results or in Chrome browsers.
Arriving at a Well Run Website "Farm"
Creating a well-designed, well-coded website, and quality content both on your own website, your blog and on third party websites will lead to that ideal farming community concept; you are giving knowledge to others, you are allowing the community to share your knowledge with more people, and you are creating a positive experience when people visit your website. You eventually build a relationship with the visitors and start selling them products, and then your success filters back into the "soil" of your business.
That's Not All the Chickens!
Stay tuned for Jackie's Power Point presentation – coming soon!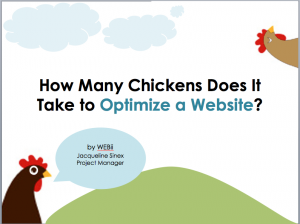 One response to "How Many Chickens Does it Take to Optimize a Website?"