Facebook Launches Q&A Feature
Thursday, October 7, 2010

The Q&A format is nothing new to the web. However, with the recent launch of "Facebook Questions," there may be new opportunities for small businesses in this common form of communication.
Facebook Questions not only allows individual users to ask and answer questions, but business pages as well. From your business page, you can post a question to your fans.
Posting a question on your page is a great way to engage with your following, and show that you appreciate their feedback. Your fans are used to seeing your status updates and posts in their news feeds, so share something new. Your question may remind them of your business and may increase the likelihood of them visiting your page. The questions you pose to your network, are also indexed by Facebook, and made available to the entire Facebook community. When users find your question, they in turn find your business page. Tapping the collective knowledge of over 500 million Facebook users can help you reach valuable information, and make your business page more visible to more people.
You can also view questions asked by other individuals or businesses, and answer them on behalf of your business page. Answering questions can be a great networking tool – a way to interact with other businesses and make your presence known. When people stumble upon questions you have answered, they again stumble on your business page.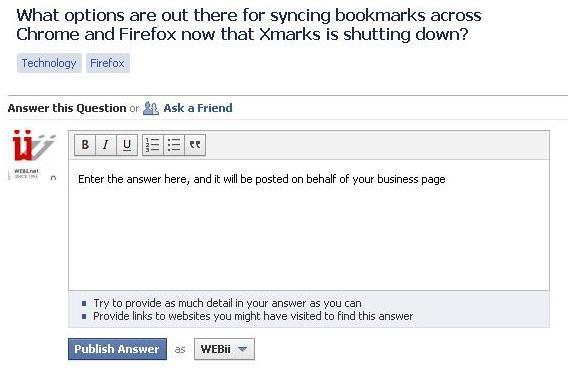 When you click "Questions" on the left-side toolbar on your Facebook homepage, you will see that Facebook Questions has suggested topics for you to follow. These topics are based on the information in your profile. You can see a list of all the topics and choose which ones you would like to follow.
Taking a little time out of your week to post and answer questions can help you engage with your fans, and help your business page establish a strong presence.





Comments are closed.